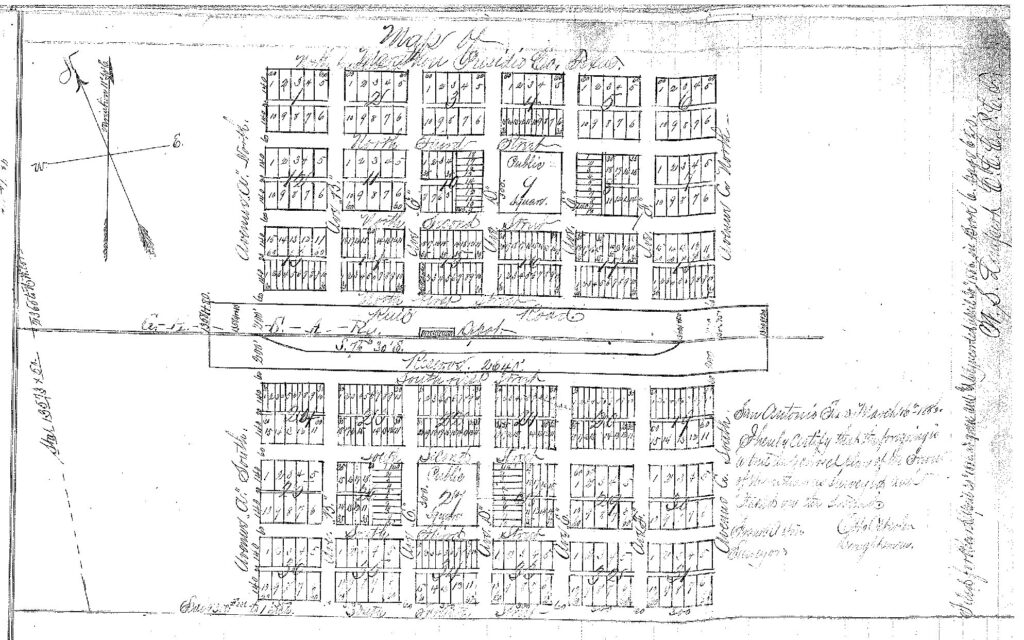 Marathon Historic Resources Survey Project, 2021–2022
Welcome to the project webpage for the historic resources survey of Marathon, Texas! We will post updates here regularly, and you can scroll down to learn more About This Project and about historic resources surveys in general.
The Latest News
October 12, 2022
Marathon residents are invited to a community meeting to learn about the final results of the town's first Historic Resources Survey, which began in October 2021.  The community meeting will take place on Thursday, October 20, 2022, from 6:30–8:00 p.m. at St. Mary's Catholic Church in Marathon. Consultant Steph McDougal from McDoux Preservation will present two possible historic districts that could be nominated to the National Register of Historic Places. Printed information will be available in English and Spanish, and refreshments will be served.
McDoux Preservation LLC, a Houston-based historic preservation consulting firm, previously nominated the Gage Hotel to the National Register several years ago. Steph McDougal and her team of architectural historians were subsequently engaged by Gage Hotel owner J. P. Bryan to determine whether any part of Marathon might be eligible for listing on the National Register as a historic district, or if individual buildings might be eligible. McDougal emphasizes that the National Register of Historic Places is an honorary designation and does not restrict property owners in any way, but it can make some properties eligible for tax credits and grants.
After gathering data and photographs in Marathon last October, McDougal and her team worked with the Texas Historical Commission (THC) to evaluate whether the town contained any potential historic districts. On the north side of Highway 90, the number of vacant lots and new construction limited potential historic district boundaries to a single district encompassing the public square and three churches. However, on the south side of Marathon, the large number of adobe buildings led McDougal and THC to conclude that an adobe-focused historic district might be possible.
Very few adobe buildings, and only a small number of adobe historic districts, have been listed on the National Register. Several historic districts that were listed previously are now being considered for National Historic Landmark status; for reference, other National Historic Landmarks in Texas include NASA's Apollo Mission Control, the San Antonio Missions, and the Strand Historic District in Galveston. McDougal is consulting with nonprofit Latinos in Heritage Conservation (https://www.latinoheritage.us/), who are nominating the Rio Vista Farm National Register Historic District in Socorro to be an NHL, on the Marathon project.
Even if a portion of Marathon could potentially be nominated to the National Register, that does not mean it would happen. A nomination would have to be approved by the Texas Historical Commission; property owners would be notified by mail, and if more than half of the property owners in a proposed historic district responded to the Texas Historical Commission that they were opposed, the historic district would not be listed on the National Register.
January 18, 2022
Steph McDougal made a presentation to the Brewster County Commissioner's Court in the morning on Tuesday, January 18, and held a community meeting that evening. Although attendance was small for both meetings, Judge Cano and the commissioners asked excellent questions about the project, as did the residents who attended the evening meeting. A recorded version of the presentation can be viewed here.
Steph noted that Marathon contains three potential National Register historic districts: one on the north side of the highway, one on the south side, and the Marathon Motel property. The National Register nomination process involves discussing our survey results with Gregory Smith, National Register coordinator at the Texas Historical Commission; agreeing on boundaries of the potential districts; and conducting more research to tell the story of these areas. Community input will be very important to this effort. J.P. Bryan has agreed to pay for the north and south nominations, if those go forward.
The National Register of Historic Places is an honorary recognition only. It does not impose any restrictions of any kind on property owners. Most people do not know that there are different types of historic districts. Only local historic designations by city governments, usually through special zoning overlays, create regulations that restrict what property owners can do.) For more information about the National Register, visit the Texas Historical Commission's website.
Marathon residents can expect a further update and Steph's final survey report of findings and recommendations later this spring.
Questions? Contact Steph McDougal at steph.mcdougal@mcdoux.com.
December 15, 2021
Steph McDougal will return to Marathon on January 18, 2022, for a presentation to the Brewster County Commissioners meeting in the morning and a community meeting in the evening. Please join us at the Ritchey Brothers Building on the south side of the highway in Marathon at 6:30 p.m. Steph will present the results of the historic resources survey, discuss the possibility of not one but three potential National Register Historic Districts, and take your questions. A recorded version of the presentation will be posted here after the meeting, for those who are unable to attend.
In the meantime, if you have questions or comments, please call Steph at 833-623-7737 or send her an email.
See you in Marathon in a few weeks!
November 10, 2021
Thanks to everyone in Marathon for making us feel welcome during the historic resources survey fieldwork! Special thanks to Phoebe and the folks at the Oasis Cafe, Danny at the Marathon Motel, the terrific baristas at French Grocery, and the outstanding cookie baker who made treats for our community meeting! We also had a productive meeting with County Judge Eleazar Cano and a tour of the restored Brewster County courtroom — thanks, Your Honor!
We have started processing the data we collected, which includes information about all of the properties in town and nearly 650 photographs. Our next steps include renaming every photo, analyzing all of that data, and making preliminary maps that show if/where a historic district's boundaries might be, as well as buildings that could be individually eligible for listing on the National Register of Historic Places.
Finally, we will be producing a recorded presentation about historic resource surveys and the National Register and posting it here sometime in the next week.
If you have any questions, please feel free to contact Steph McDougal or call us at 833-623-7737.
October 10, 2021
McDoux Preservation LLC will be in Marathon, Texas, from October 19–21, 2021, to document and take photographs of properties throughout the town, including both the original town site (shown above) and its additions. Residents are invited to drop in for a community open house between 6:00-8:00 p.m. on Wednesday, October 20, to learn more about the project.
Click on these links to open the press release, open house flyer, and open house handout in English.
You can download the free Adobe Acrobat Reader here.
Las versiones en espanol: Casa Abierta Flyer (el poster) y Handout (los datos).
About This Project
McDoux Preservation LLC has been hired to conduct a historic resources survey of the entire town of Marathon, Texas. McDoux owner Steph McDougal and her team of three other architectural historians have been researching the history of Marathon and how it developed since the original townsite was first laid out in 1886. The McDoux team will be in Marathon in October 2021 to conduct fieldwork and meet with the community. The survey project is expected to be complete in early 2022.
McDoux previously completed a nomination to the National Register of Historic Places for the Gage Hotel in Marathon, and Gage Hotel owner J.P. Bryan subsequently engaged McDoux to conduct this survey . Steph McDougal, an experienced and award-winning historic preservation consultant, is in charge of the project and all data analysis, findings, and recommendations.
What is a Historic Resources Survey?
Historic resources surveys are a very specific type of data collection effort. A "survey" is an examination or a description of something. Metes-and-bounds surveys collect data that can be used to describe the boundaries of a piece of land, and opinion surveys collect data in order to examine what people think about a specific topic. Historic resources surveys examine, collect data about, and then describe the buildings, structures, objects, and sites in a particular area.
In the field of historic preservation, architectural historians use these surveys to identify historic resources. (That's a catch-all term that includes buildings, structures, objects, sites, and districts.) We collect data and photographs of each resource, create maps, and determine whether any resources are individually eligible for the National Register of Historic Places and whether any resources might be combined into a National Register historic district. Then we produce a report of our findings and recommendations.
Since the 1970s, many cities and towns in Texas have been documented with historic resources surveys . As a result, we have "snapshots" of those places at specific points in time. For example, photos of some buildings in Marathon taken in 1978, 1984, and 2019 are available on the Portal to Texas History website. Early surveys often only collected photos of and information about obviously historic buildings. Today, best practices have changed, and architectural historians document everything to form a complete picture about a community or neighborhood.
After the McDoux team has completed our work, Steph McDougal will hold another community meeting in Marathon to share our findings and recommendations and gather feedback.
What is the National Register of Historic Places?
The National Register of Historic Places is a list of the most historically and architecturally significant places in the United States. A listing on the National Register is honorary; it does not restrict property owners in any way or affect their property rights. Listing on the National Register does provide financial benefits for some properties, through the state and federal historic tax credit programs, Texas state sales tax exemptions, and eligibility for federal, state, and (in some cases) local grants. For more information, visit: https://www.thc.texas.gov/nrhp-faq.
Many cities in Texas have local historic preservation programs, which do include regulations that apply to people who own a locally designated historic landmark or property in a locally designated historic district. Local historic designations are usually accomplished through a zoning overlay. None of that applies to Marathon.
You can see all the historic resources listed on the National Register in Brewster County (or other places) by visiting the Texas Historical Commission's Historic Sites Atlas database.